Watch Video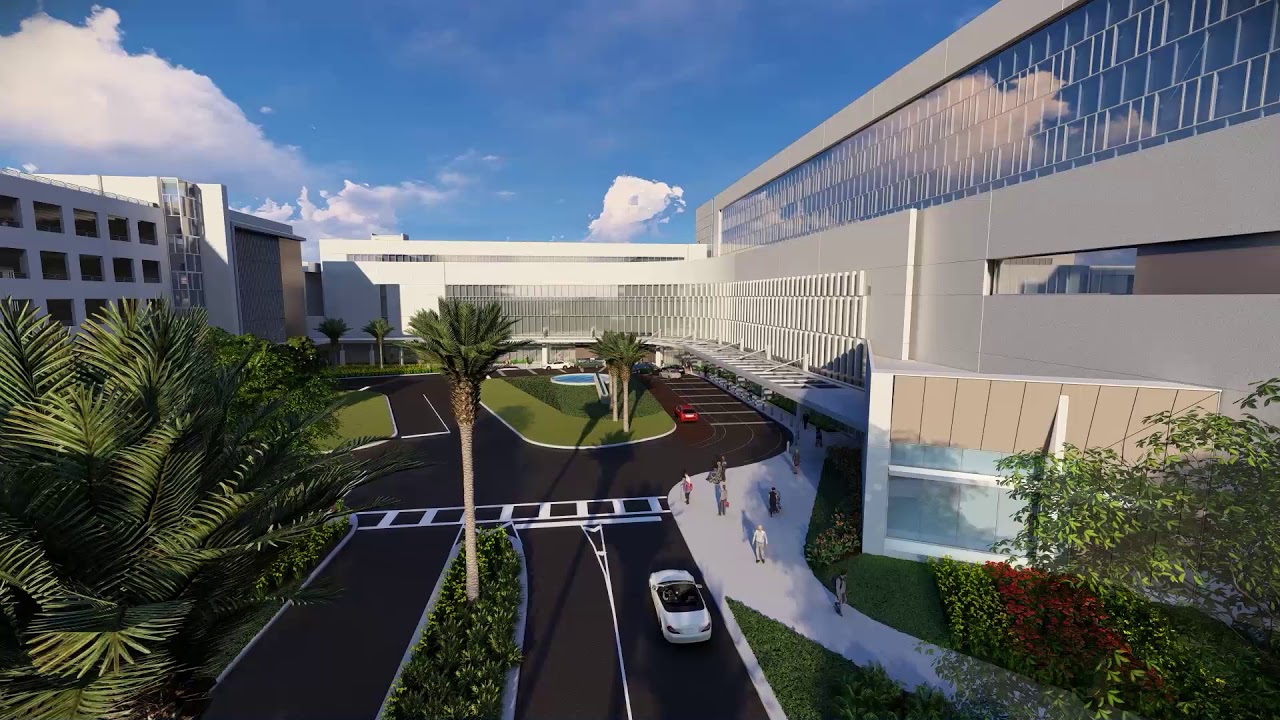 Transforming Innovative Surgical Care in Tampa Bay
We're expanding to better serve you with a brand new surgical tower that bring even more innovative and compassionate health care to our community.
Opening in Fall 2021, the Taneja Center for Surgery will add 18 brand new, state-of-the-art surgical operating rooms, each equipped with advanced technology leading to enhanced patient outcomes. The tower will include modern and spacious private rooms with beautiful large windows and elegant, upscale finishes to create a calm and peaceful healing environment.
This major expansion will also create a new two-story atrium main entrance for the hospital, including convenient access to the newly renovated parking garage and complimentary valet parking. The light-filled lobby includes natural gardens and several seating areas, and will feature first-floor amenities like a large gift shop, coffee shop with healthy food and beverages, modern auditorium and meeting spaces, and a serene chapel for prayer and reflection.
The second floor overlooks the lobby and features an expansive family waiting room with cozy, comfortable seating. The fourth floor includes a refreshment lounge and a tropical rooftop terrace that offers an opportunity for fresh air and the healing power of nature. On the fifth floor, in addition to private patient rooms, a rehabilitation gym for patients overlooks expansive views of the area and the rooftop terrace.
Coming Fall 2021 to AdventHealth Tampa
18 items. To interact with these items, press Control-Option-Shift-Right Arrow. These items are in a slider. To advance slider forward, press Shift-Command-Right Arrow. To advance slider backward, press Shift-Command-Left Arrow.
State-of-the-Art Surgical Care for Today and Tomorrow
AdventHealth Tampa will continue to offer the advanced medical and surgical care our community has come to expect, now in a brand new setting designed with the future in mind.
The Taneja Center for Surgery will add the following new features to the existing AdventHealth Tampa hospital facility:
96 new private patient rooms upon opening, with space to add 36 more later

24 beds will be Intensive Care level; the remaining 72 will be PCU level

18 spacious and state-of-the-art operating rooms upon opening, with space to add 6 additional ORs later
72 new pre- and post-op rooms, with space to add 23 additional rooms later
Estimated 117 new clinical jobs created in year one, with 587 new jobs by year five, helping our local economy
300,000+ additional square feet (adding to the 1 million square feet on our existing campus)
6 floors
A new main entrance to the hospital, which includes a two-story atrium and lobby
First floor amenities include:

160-seat auditorium and meeting space
Coffee shop
Concierge, patient registration and pre-admission testing
Expansive chapel
Gift shop
Kids' play area
Key benefits:
The new OR's are large enough to accommodate advanced surgical robotic technologies, including:

Intuitive daVinci robotic-assisted surgical system
Synaptive Medical BrightMatter Guide with SurfaceTrace Registration 3D brain-mapping system

ORs will include the latest technology to ensure a sterile operating environment:

Indigo-Clean Systems, an advanced infection-prevention environmental disinfection system that cleans rooms with safe, visible light
Laminar Flow OR integrated ceiling system, ensuring airflow over the entire sterile field and better contamination control
Sterile processing areas will have new Steris equipment

At 700+ square feet each, the 18 new operating rooms in the tower are some of the largest in Tampa Bay, providing surgical teams ample space to move within the room using the latest technology
One operating room anteroom offers negative pressure
Be a Part of Our Mission of Healing, Whole-Person Care
Your generosity helps us continue to serve our community with whole-person care. Our Foundation is working to raise funds to ensure the completion of this expansion.
Thank you to these local leaders for championing AdventHealth Tampa Foundation's Taneja Center for Surgery campaign:
Mark Sharpe, Campaign Chair
Dick and Linda Greco, Campaign Honorary Chairs
If you're interested in learning more about AdventHealth Tampa and the Taneja Center for Surgery, please contact Kourtney Sanchez, Executive Director of the AdventHealth Tampa Foundation for a tour of our campus and an overview of the tower's construction process:
Kourtney Sanchez
Executive Director 
AdventHealth Tampa Foundation 
Call727-409-7676
[email protected]