Bringing Quality Cancer Care Close to Home
A cancer diagnosis can shake your faith. At AdventHealth Manchester, formerly Manchester Memorial Hospital, we want to help keep you strong in body, mind and spirit. On the good days — and especially on the harder ones — we're here to provide not only leading-edge cancer treatment from hematology-oncology experts, but also renewed hope and motivation to face this challenge.
Expertise and Compassion at AdventHealth Manchester
3 items. To interact with these items, press Control-Option-Shift-Right Arrow
Whole-Person Healing and Support

This is a time for you and your family to focus on what's most important, and that's healing — not all the logistics that go along with cancer care. We don't just fight your cancer with breakthrough science, clinical trials, and advanced diagnostics and treatments; we fight it by helping you stay brave, optimistic, and spiritually lifted at every step. When you're our patient, you'll never be alone in this journey.

Leading-Edge Cancer Care

Blood and bone-marrow diseases can be complex. We want to help you understand them so you can find the resolve and confidence to face your diagnosis with strength. Across our organization, AdventHealth partners with national cancer care leaders to help you benefit from the latest advances in treatments for blood and bone cancers and diseases. The services we offer for treatment include:

Bone marrow aspiration and biopsy
Hematology and oncology consultation
IV infusion therapy
Lumbar puncture
Paracentesis
Thoracentesis
Treatment with biologicals

Take heart: People who receive treatment for blood and bone cancers and diseases are living longer, better, and more fulfilling lives than ever before. With your strength and our expertise, we'll help you find answers and guide you through treatments.

Personalized, Convenient Care

Imagine your radiation specialist working closely with your cancer surgeon, and your physician taking an active role in the supervision of your overall cancer care. This is the connected, compassionate cancer care that improves outcomes and keeps you as relaxed and focused on your healing as possible. Trust our whole-person approach to care to help heal your body, ease your mind and soothe your spirit at every step of your journey.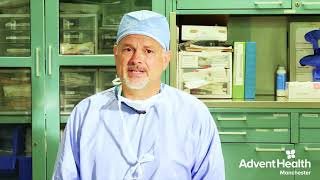 How Routine Screenings Can Prevent Cancer 
 
A colonoscopy might make you anxious, but our compassionate team is here to provide comfort and expert care. AdventHealth Manchester's Dr. Gregory Wilkens explains why colorectal cancer screenings are so important — and how they can even prevent cancer from forming. 
A Team of Experts on Your Side
Taking Care of the Details
You focus on healing. Let us handle the rest. Our multidisciplinary care team is here to help you coordinate your care and connect you with the resources you need to overcome any roadblocks in your way. Whether it's helping you find child care during your treatments or a local gym where you can relieve some stress, we're here to support you in body, mind, and spirit.