Caring for Mother and Baby
And The Entire Family
From the time you dream of starting a family until the day you deliver, there are so many decisions to make. We're here to guide and support you through preconception, pre- and postnatal care, labor and delivery, postpartum, and beyond. As a Women's Choice Award "America's Best Hospitals for Obstetrics," The Baby Place at AdventHealth Wesley Chapel, formerly Florida Hospital Wesley Chapel, is here for you. Whether you want a midwife-assisted birth or need a C-section, we deliver the best in expert maternity care, coupled with a soothing environment to support your labor and delivery, ease your mind, and lift your spirit.
Your Littlest Addition Means a Lot
So Let Us Think of Every Little Thing
5 items. To interact with these items, press Control-Option-Shift-Right Arrow
Personalized Comfort and Support

There's a lot for you to think about as a mom-to-be. With the BirthDay Experience, AdventHealth Wesley Chapel, formerly Florida Hospital Wesley Chapel, offers you a personal birthing advocate to help guide you through the decisions you'll need to make along the way and act as a liaison with the OB/GYNs, physicians, midwives, and labor and delivery nurses. But we also know what's really important to you as a mom: getting through your birth experience as comfortably and free from worry as possible. This is why our birthing center at Wesley Chapel focuses on whole-person care, with amenities that allow for plenty of bonding with your baby, flexible visiting hours so your loved ones can be there to support you, and five-star amenities that include:

A Private Birthing Suite Built for Labor, Delivery, and Recovery
Anytime Visiting Hours
Beds Built for Bonding
Free Concierge Services for Moms and Family Members
Gourmet Meal for Two
Online Pre-Registration for Speedy Check-in
Overnight Guest Accommodations
Soaking Jacuzzi Tubs
TVs with Free Movies
Walk-in Showers
Wireless Fetal Monitoring
Your Time Meal Service for Mom and Dad

These and other small luxuries are how we help soothe and comfort you during your labor and delivery, and help you feel relaxed and at home while you recover. To Schedule an appointment with our Birth Educator call Call813-929-5176.

Expert Care You and Baby Can Count On

Whatever you or your baby need under our care, big or small, we're always on call. At the birthing center at Wesley Chapel, you have access to obstetricians, mobile fetal monitoring for freedom of movement, and a Hugs® and Kisses Infant and Mother Protection security system for keeping you and your baby safe during your stay. And, if you're looking for the safety and security of a hospital environment yet desire a low-intervention birth experience, we have the best of both worlds: certified nurse-midwives (CNM) who will work in tandem with your birth advocate and OB/GYN doctor for a truly collaborative approach. Let us help give your baby the very best welcome we can.

All the Resources You Need to Feel Prepared

When it comes to your pregnancy, you're already an expert. You know what size fruit your growing baby is now, and you've already registered for all the baby gear. But you also know that no book or app can totally prepare you for what's to come. So let us help you cover all the basics with Childbirth Education programs taught by certified childbirth educators. We offer: a three-week Prepared Childbirth series, a Newborn Basics class and a Better Breastfeeding class taught by an IBCLC. Call for more information for Childbirth Education programs at Call813-929-5176 and Breastfeeding Classes at Call813-929-5185.

We also want to support you long after you go home with baby care classes, lactation support, counseling services, and more. With a firm commitment to your wellness, your childbirth advocate is there to connect you to any program or educational opportunity you may want or need. Learn more about our available Educational Events.

Screenings for Better Preparation. Experienced Care for the Unexpected.

Being a great mom includes protecting your baby, above all. So even before birth, you're already thinking about car seats and baby proofing. You may also be thinking about pre-birth health concerns, including the chance of a miscarriage, genetic disorder, or birth defect. Let us provide you with clear, specific answers. We start by welcoming you into an open conversation about your wellness, your family history, and other factors. Using screenings at different moments before and during your pregnancy, we can complete the picture and determine your risks.

 

Finding Healing After Loss

You love your child from the moment you know they're there. That never changes. If the unthinkable loss happens, know that you're not alone. In the face of miscarriage or infant loss, we're here for you. Along with giving you a comforting space to grieve, we offer a range of support groups and resources to help you find ways to cope with your loss, and find peace for your spirit.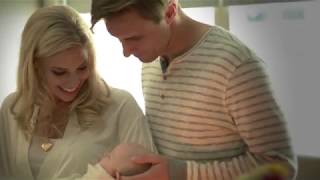 The Birth Day Experience ®
See what you can expect from your AdventHealth Wesley Chapel Birth Day Experience.
A Network of Support
For the New Love of Your Life
Welcoming a new baby is a wonderful — and sometimes overwhelming — experience. We're here to help. Our multidisciplinary approach to care ensures you and your baby are fully supported before, during, and well after your labor and delivery. From advanced prenatal care to expert NICU specialists to the most compassionate pediatric teams, count on our network to care for you and your family from birth to beyond. You'll be there for every step of your child's care. So will we.